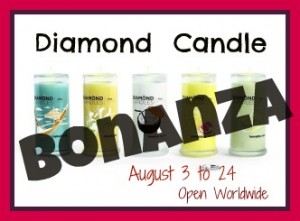 These Diamond Candles are so HOT right now! Every candle has a ring in it, valued between $10 and $5,000!
If you've been wanting a Diamond Candle, here's your chance!
Rita Reviews
and SAVING IN BRANSON along with some other great blogs are hosting a Diamond Candle giveaway! And they are not giving away just one Diamond Candle, they are giving away TWO sets of FIVE of them! THAT'S RIGHT there will be 2 winners! Will you be a winner? Get your entries in!
The winners will have their choice of scent from the Diamond Candles website!
I personally love these candles. They last forever & the waiting for the candle to burn down to the ring just makes them that more exciting!! So get your entries in & maybe you can be filled with the excitement of waiting to find out what your ring is worth!
This will run from 8/3/12 at 12:01 am EST through 8/24/12 at 11:59 pm EST and is open to Worldwide. Good luck everyone!
a Rafflecopter giveaway
Please Note: Rita Reviews is solely responsible for the notifying of the winners as well as shipping the prizes and not SAVING IN BRANSON.